We recently released our February 2022 updates our Temporall Platform.
A number of key platform updates have been released to ensure that we continue meeting the analytics and insight needs of our customers and partners.
This month was all about enabling even greater depths of automated insight. Network intelligence developments and Saved Views have therefore been a focus for February, so you can dive further into the way your unique company works together.
Here's what's new in Temporall Platform:
1. In-depth Automated Network Insights
Network insights have just got more powerful.
On Temporall, you can build a more in-depth understanding of the informal patterns of connection and information flow across your company, using our real-time automated network insights.
These advanced automations dramatically speed up your time to actionable insights.
Filter your network views by demographics and date range, and use our pop-out intelligence panel to understand key insights for that population.
We've added numerous new quantitative visualisations: interaction analysis, message and reaction trends across your company. Filter over time and by demographic to see where you are now and make more intentional, data-driven decisions.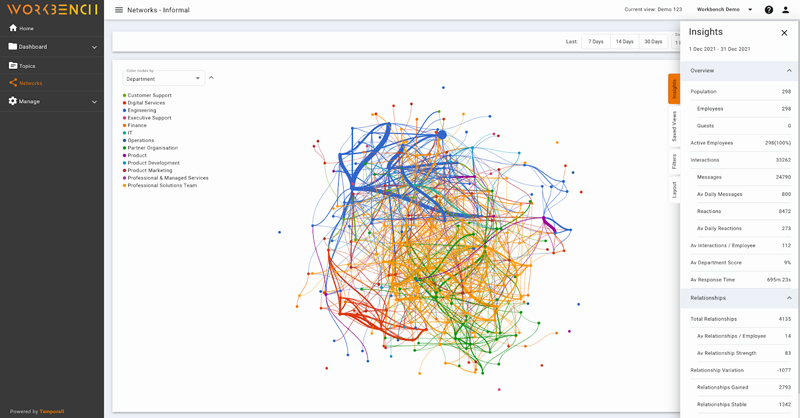 2. Relationship Analysis Advances
Any productive, efficient and engaged workplace relies upon connection and communication – especially in the hybrid era.
With the latest Temporall update, you can now understand the strength of relationships across your company.
Temporall algorithms help you understand average relationship strength and variation, as well as total relationships, average relationships per employee, and relationships gained and lost over time. These are all automated and are visible in the intelligence panel.
You can break down your insights by demographic, such as Tenure, Age and Department, to bring you a new level of depth into your workplace analytics, spot siloes, understand where there are barriers to success, and pinpoint your most innovative and inclusive communities.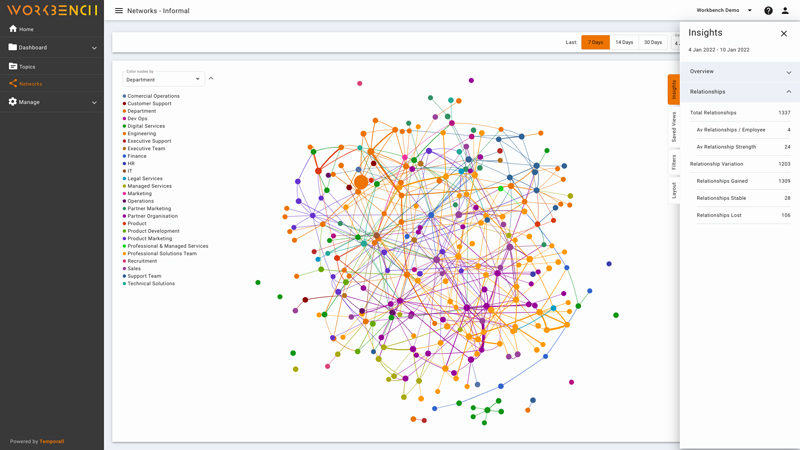 3. Granular Saved Views Options
Saved Views are an analyst's best friend.
With the latest Temporall update, you can save specific elements of a view, including data range, campaign, filters and layout.
This makes it even easier to create, edit and study the metrics that really matter to you, drill down into analytics patterns, and directly compare saved views over time – without the hassle of reconfiguration.
It is now also possible to save your views as private, on Temporall. This is yet another step towards ensuring you have full control on the platform, and that we are prioritising your data privacy and integrity.
Private views can only be seen by the analyst that creates them – not by another analyst nor at an organisational level.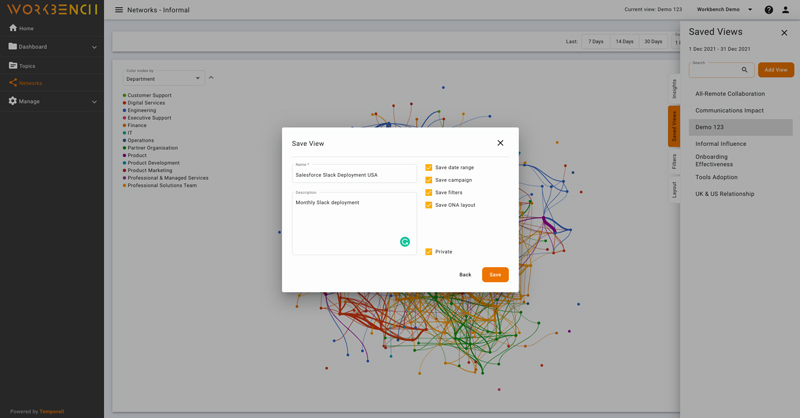 It's just getting better.
Every month, we update Temporall. This rapid pace of software engineering is to ensure that our customers have the best experience possible and are able to deliver workplace analytics and insights for the hybrid era.
Join a global community of data-driven decision-makers and start using Temporall today.