The office vs. remote debate is over. There's no denying it's now all about hybrid work.
Debates surrounding the physicality of knowledge work have been the primary concern for leadership teams and employees for the last two years.
"When are you going back to the office?" was the question everyone was asking. While some feared the 'great return', others promised to embrace it. But the reality is that the 'great return' didn't really happen. Various Government restrictions, Covid-19 spikes and a realisation that we didn't need the office all played their part—and now the debate is over.
It's time to move past the office vs. remote debate. The future of work isn't either/or—it's both. Less than one third (30%) of global knowledge workers are working from the office every day. Meanwhile, the percentage of people working in hybrid set-ups has increased to 58%.
But to succeeed in this digital-first hybrid era, leaders must embark on new analysis techniques namely, hybrid workplace analytics.
Rise of digital workplace tools
Digital workplace tools like Slack, Microsoft Teams, Google Workspace, Zoom etc. have cemented themselves as an essential part of the hybrid workplace. While some employees have steadily returned to physical spaces, everyone – no matter where they work – is still using these collaboration and communication tools to actually get stuff done.
It has become clear that these digital workplace platforms—the infrastructure that supports productivity, collaboration, communication, alignment and even culture no matter where employees are located—might be even more important than the physical hq.
This is a sentiment shared by Stewart Butterfield, Slack CEO who recently said,
"At some point in the last couple of decades, we've transitioned from a world where digital technologies supplement in-person communication as the means of aligning people to accomplish their objectives to the other way around: in-person communication and collaboration supplements the digital. And we never noticed."
For all of its many positives (potential for greater inclsion, work from anywhere opportunities, less reliance on in-person relationship building and charisma), this new digital-first working world poses a number of new challenges.
At its most basic level, it's just incredibly difficult to understand what's really going on. There's no rule book. No business as usual. No frame of reference.
After inventing remote work policies on the fly in 2020 many are still yet to determine their digital hybrid working policy going forward. 40% of employees say their employer has not communicated a vision for their organisation's future workplace model, and 28% say that what they've heard is vague.
Leadership teams are facing a whole new set of productivity, engagement and efficiency dilemmas posed by an ever-evolving hybrid work. They are left asking, "What does good look like?" and "How do we move forwards?", while employees are left waiting in the dark.
Hybrid workplace analytics​
Hybrid workplace analytics enables leaders to use data from various cloud-based technology platforms such as Slack, Google Workspace, and Microsoft Teams to understand how their company is working.
Hybrid work lives in these tools. They're where work happens, culture breeds, decisions are made and announcements are shared. It's therefore not surprising that employees spend an average of 9 hours a day on Slack.
The data that is produced every moment of these 9 hours, every single day, by simply using Slack and your other workplace tools, holds critical stories about how work actually happens.
By harnessing data from your workplace tools and augmenting with authentic employee feedback, leadership teams benefit from hybrid workplace analytics that bring clarity to the way hybrid works.
Answering 4 key questions​
There are 4 pressing questions that hybrid workplace analytics help companies initially address:
When are my teams working?
How is information and knowledge shared throughout the company?
What is the usage and adoption rate of our workplace tools?
How connected and aligned are our employees?

The answers to these 4 questions give a foundational understanding of the facets of a hybrid workplace. We call this first phase the Hybrid Snapshot.
This real-time situational awareness of the hybrid workplace gives something to build upon. Once the initial essential improvements are made, organisations move into the optimisation phase. Processes are optimised, data-driven decisions are made faster, you're more adaptable, and you have an internal benchmark to work with.
Now, ongoing hybrid workplace analytics can be more attune to your specific needs, so you can continuously assess and find opportunities to improve and optimise.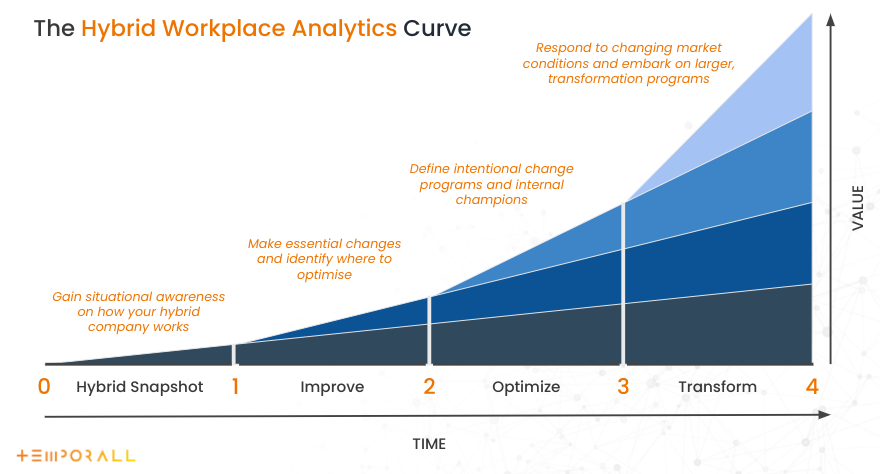 This whole journey is supported by continuous hybrid workplace analytics, using real-time data, your workplace tools and employee feedback. Over time, companies can then look to more transformational programmes, confident in the foundations of their hybrid working practice.
With Temporall, clients benefit from real-time workplace analytics and insights, our customisable reporting engine, and . We know that within these 4 stages of the curve, there's a myriad of unique needs and dilemmas that will arise—so your analytics must be unique too.
Building a hybrid future that works​
Hybrid workplace analytics help organisations understand where they are, what's working and what isn't, at every stage in the journey.
While many leadership teams would love to be at the Optimize or Transform stage, the reality is that many are grappling with simply getting a Hybrid Snapshot of where they are right now. Hybrid working insights that are based on actual workplace tool data and employee feedback enable leadership teams to start tackling the ever-evolving dilemmas of hybrid.
This data-centric approach is one that can keep pace with rapid strategic planning cycles (one of the most influential forces that will impact company performance in the decade ahead). It brings an ability to flag issues (e.g. toxic topics, decreasing sentiment, burnout signals, over-dependence on one team) and even spot patterns that lead to problems occurring, so you can implement change early.
Temporall's Hybrid Workplace Analytics​
There's 3 core reasons why companies choose Temporall: value, speed and quality.
We are the leading hybrid workplace analytics company. Our purpose-built platform helps you understand where your hybrid company is and how to be more intentional with your company's time, effort and resources.
Without a foundational understanding of how your company is working and a clear sight of:
When are my teams working?
How is information and knowledge shared throughout the company?
What is the usage and adoption rate of our workplace tools?
How connected and aligned are our employees?

any efforts to optimize or drive change will never reach their full potential.