Workplace collaboration tools are booming. In fact, you've probably got one open on your phone or laptop as you're reading this.
1. Get more out of your workplace tools investment
The cost of implementation, support and maintenance of your digital HQ is roughly five times more than the licence cost (Forrester, 2021). At Temporall, we can reduce that internal cost, by helping you continuously optimise their use.
Using data fromSlack, Microsoft Teams and Google Workspace, our centralised analytics platform allows you to visualise how your organization changes over time, understand tool adoption, employee inclusion, the overall impact on the employee experience and how work really gets done.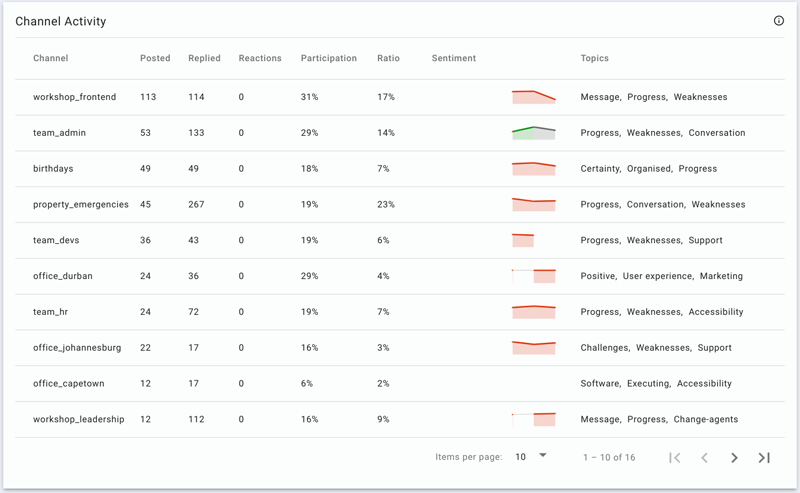 By delivering real-time, advanced analytics and reporting into the usage and impact of your workplace collaboration tools our customers have real insights into how and where to improve their effectiveness.
Temporall – our platform – allows for faster and more accurate insights into your digital workplace tools, so you can get more out of your investment and deliver better business outcomes. And it's at a fraction of your current overall digital HQ cost.
2. Reduce employee interruptions
On average, Slack users check the tool every 5 minutes. During a typical working day, that's 96 times. For a company of 1000 employees that equals 96,000 interruptions in just one day. Research from the University of California and Humboldt University found employees can lose up to 23 minutes on a task every time they are interrupted. So our 1000 person company is potentially losing 36,800 hours to checking workplace collaboration tools. Every single day.
Ask yourself, can you afford almost 100 interruptions a day?
The cost of this chaotic digital workplace is huge. The Atlantic describes it as a party that's got out of hand – and naturally, that doesn't equate to effective business outcomes. Instead, it is inefficient and time consuming, while the constant interruption will be damaging to the employee experience. Yet the problem points and full impact is invisible to IT admins due to the inadequate and siloed analytics that your collaboration tools provide as standard.
Temporall provides advanced analytics and reporting for your workplace collaboration tools to help you understand and how to manage the employee experience.
You can dive into overall system metrics, member, channel and message analytics, all in real-time. Employee participation rates (% of people active within your channels), ratio rates (% of overall activity in channel for instance), message activity hours and associated sentiment are some of the key metrics that help you assess your workplace collaboration tool usage.
This is the quickest and most informative way for an IT admin to understand system usage and impact, ensuring time and resource is saved and your platform is as efficient as possible.
3. Get the right people working together, to improve teamwork
More collaboration isn't always better. What's important is how people and teams collaborate. But to improve, you need to understand your current lines of collaboration and their effectiveness. This is something your standard workplace collaboration analytics cannot show you.
Workbench maps the collaboration patterns of your organisation, using data from your workplace collaboration tools including Slack, Microsoft Teams and Google Workspace. Our advanced filtering helps you visualise these patterns by Department, Age, Tenure, Seniority (and more), and highlight your key influencers and knowledge brokers. With our Saved Views feature, you have the flexibility to set the filters and date range that's right for your company and save that work so you can go back and edit this at any time.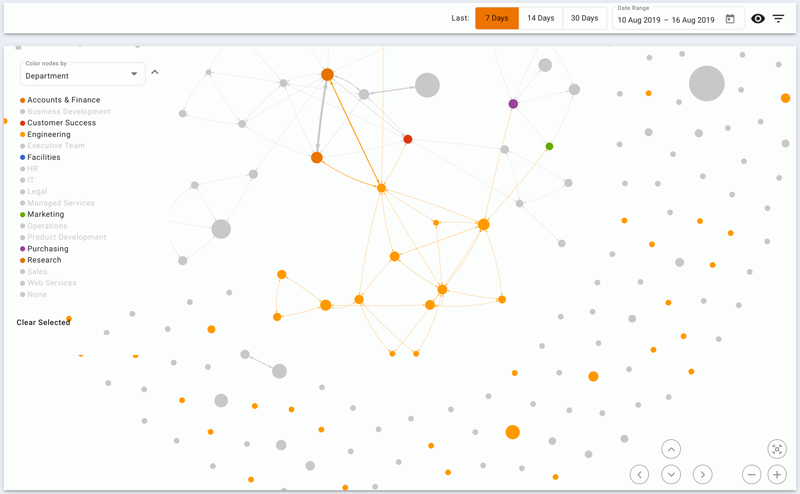 For example, you can see the information flow between your Product and Development teams in the lead up to your next feature release. This is a key relationship in any tech business and according to IDC, the effective use of workplace collaboration tooling will see a 24% increase in features delivered on time.
At Temporall, we help you use your workplace collaboration tools more effectively, ensure your investment is working hard for you and enable your tech teams to meet the needs of IT and wider business functions, to help them generate the insights that matter the most. With an investment of just 3% of your current overall digital HQ cost, we provide industry-leading advanced analytics and reporting.
Temporall provides advanced analytics and reporting for your workplace collaboration tools, so you can drive better business outcomes across your organization. For a fraction of your current digital HQ spend, licensing Workbench will bring unrivalled insight into how your workplace collaboration tools are used and how you can improve for 2022. We help you save time, money, resources, while driving collaboration, productivity and boosting the employee experience.
For enterprise customers, we offer Insights-as-a-Service, our on-hand analytics support from the Temporall Services Team. We also have a Global network of resellers and Systems Integrators to help you get more out of your current investment.
Fancy giving it a go? Leave your details below and we will be in touch abou how to start a pilot.